EMQUE iPad app in the news!
(From LI Business News 6/24/2011)
Send us a request to run a demonstration
in the Emque cloud.
"EMQUE wins 2014 L.I. Software Award for Spanish language version of ERP and Mobile applications"
We are pleased to announce that Emque is a recipient of a 2014 LISA (Long Island Software Award) award for innovation in technology.  The award was presented to Emque for its translation of both Emque's ERP application, as well as all Mobile apps, into Spanish and expansion into international markets.  This is the 3rd consecutive year that Emque has received a LISA.  Gwen DeFriest, Marketing Consultant, and Emily Liming, Spanish Intern, (shown in picture) worked extensively with our representatives of Central and South America, in order to provide an accurate translation of the software and appropriate marketing materials for this new market.
Accounting & Cost Analytics
Accounts Receivable
Accounts Payable
Job Costing
General Ledger
Check Reconciliation
Additional Applications
Purchasing
Payroll
Estimating
"Emque wins 2013 L.I. Software Award
for Smart Phone apps"
Emque, a developer of customizable software for the commercial construction industry, has been awarded a coveted 2013 LISA (Long Island Software Award) for the second year in a row. Emque's Payroll Time Entry app for smart phones won the award. In 2012, Emque won for it's mobile app, The Foreman.
Click here for more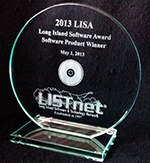 2013 LISA Award
Mobile Applications
The Foreman
The Project Manager
The Owner
"Emque wins 2012 L.I. Software Award"

On May 2, 2012, Emque received the L.I. Software Award for it's cutting edge work in wireless apps for the construction industry, namely "The Foreman" that runs on the iPad. The awards ceremony was held at the prestigious Garden City Hotel on Long Island and attended by over 400 technology professionals from the region. The keynote speaker was Senator Charles Schumer whose acknowledgement of the 'hotbed' of technology that L.I. continues to be was received enthusiastically by all.
Click here for more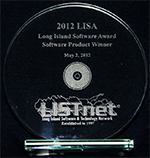 2012 LISA Award